Limousine Algona: Nightlife
98001, 98047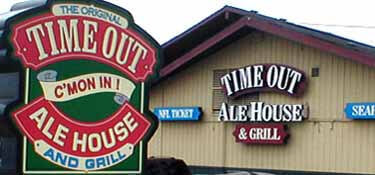 Time Out Ale House
Located at 34525 16th Ave S, this is one of the coolest lunch spots for Limousine Seattle customers in the Algona area with really nice decor, high class service, and truly tasty sandwiches and entrees that will fill you up and keep you satisfied. We're big fans of the nachos! So cheesy and delicious, piled high with toppings. Reach them for more info at (253) 838-0086.

Spunky Monkey Bar & Grill
Located at 124 2nd St SE, this is an awesome bar and restaurant with affordable prices and a wide array of entrees that will really please you and your Limousine Seattle group in the Algona area. We like the unique atmosphere with the monkey art hanging on the walls, and the ambiance is just very cozy and inviting, a nice complement to the friendly service. Call them up at (253) 804-9567.

OddFellas Pub & Eatery
Found at 102 W Main St, this establishment is a guaranteed winner for our Limousine Seattle customers in Algona. They nail the Irish pub atmosphere so perfectly and so authentically. It's a real gem with the fresh decor and all the work they have put into it. The food matches up ideally with that ambiance, pure Irish pub goodness at its very best! Call them at (253) 939-7278.

Koharu Restaurant
Found at 31840 Pacific Hwy S, Koharu is one of our favorite sushi bars and Japanese restaurants and we're always quick to recommend it to our limousine groups in this area. They have absolutely exceptional service and some of the best tasting sushi and Japanese fare that you'll ever have. We recommend sitting at the sushi bar and conversing with the chef! Reach them at (253) 839-0052.

Los Bigotes de Villa
Located at 30420 Pacific Hwy S, this sensational Mexican restaurant is just ideal for your limo trips out here. It all begins with the fresh chips and salsa, and since there's a full salsa bar to enjoy, you'll have an array of fresh toppings at your fingertips throughout the meal. They've got all your favorites here, including burritos, enchiladas, and so much more. Call them up at (253) 941-2071.

Jimmy Mac's Roadhouse
Located at 34902 Pacific Hwy S, Jimmy Mac's is a steakhouse with a huge array of delicious barbecue items that we think you'll really enjoy during your limousine outing. The free peanuts are a cool bonus, we love the display case with fresh beef, and the happy hour prices are a definite perk that you'll appreciate. Sitting at the bar is just wonderful. Call them up at (253) 874-6000.

The Rock Wood Fired Kitchen
Found at 34817 Enchanted Pkwy S, The Rock is one of Limousine Seattle's favorites for the Algona area with their wonderful wood-fired pizza and impressive selection of spirits. This is a chain establishment but it does not feel like one. We love the dim lighting and the booming music that provides a lively ambiance for your limo parties! You can call them at (253) 835-7625.

Rio Blanco Family Mexican Restaurant
Found at 3830 A St SE # 201, this Mexican restaurant is not only a great place to eat in this area but it's a fantastic place to have some drinks too! They have a nice selection of tequila for your margaritas and other mixed drinks or shots, and they of course have all your favorite Mexican entrees available including generously sized burritos and more! Call them at (253) 939-9311.

Muckleshoot Casino
Found at 2402 Auburn Way S, everybody knows that the casino is a great place to enjoy the nightlife in Algona with Limousine Seattle. They have some good food to enjoy on the premises too, including a pho bar with incredible seafood offerings that will really please those tastebuds of yours! A lively spot to celebrate something special. Reach them by phone at (800) 804-4944.